Frequently Asked Questions
To enjoy Overnight Oats, just layer all of your ingredients in any food safe container with a lid and refrigerate overnight (up to 24 hrs). Stir and ... Read More
Quaker does not add glyphosate during any part of the milling process. Glyphosate is commonly used by farmers across the industry who apply it ... Read More
Overnight Oats are great with all kinds of milk, dairy (pasteurized) or non-dairy. Feel free to use your favorite! We do not recommend making Overnight Oats with water because it will result in an overly liquid texture.
Any of our food products that contain the most commonly allergenic foods (peanuts, tree nuts, shellfish, fish, egg, wheat, milk and soy) will include ... Read More
A rice cake is formed when heat and pressure are added to the grains causing them to expand. A portion of grains is set onto a mini baking pan. As a ... Read More
As much as we'd love to give everyone a tour, due to insurance, product, and human safety reasons, we do not have tours of our plants or headquarters ... Read More
We're happy to help!

Please call 1-800-367-6287 and if possible, have your package handy so we can gather some information.

Email us using this form.

Or open a chat window.
While many people enjoy warm Quaker Oats, cooked in a microwave or on the stove, Overnight oats are prepared with your favorite milk and refrigerated overnight for a cool and creamy—yet hearty—no-cook way to enjoy a delicious oats breakfast.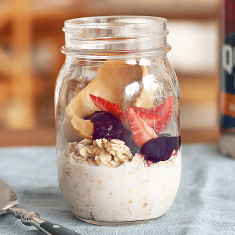 Not seeing what you're looking for?