You can find Oat Beverage in the refrigerated dairy alternative sections at retailers nationwide. Check our store locator here.
To enjoy Overnight Oats, just layer all of your ingredients in any food safe container with a lid and refrigerate overnight (up to 24 hrs). Stir and ... Read More
Look for FORGED By Quaker at convenience stores nationwide starting in February 2019 .
FORGED By Quaker is a new line of delicious protein bars for fuel you can count on. Designed with both taste and nutrition in mind, the bars are made ... Read More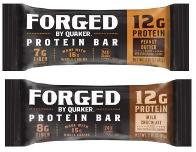 FORGED By Quaker will be available in Milk Chocolate and Peanut Butter flavors.
Yes, this product contains 15g-16g of whole grains, 8g coming from whole grain oats.
While Quaker Kids Organic isn't gluten free, we do offer gluten-free products including our Large Rice Cakes, Rice Crisps, Gluten-Free Quick 1-Minute, ... Read More
As the trusted leader in oats for over 140 years, we continue to innovate to meet evolving consumer lifestyles and find new ways to deliver products ... Read More
We are always on the lookout for ways to reduce our environmental impact across our manufacturing and distribution network and processes. We are proud that Oat Beverage bottles are made from 100% recycled content, are recyclable and are BPA free.
Not seeing what you're looking for?