Frequently Asked Questions
We recommend that all elements of the Go-Kit be consumed by the "best if used before date" listed on the package.
Yes, Quaker Muesli is Non-GMO Project Verified. ... Read More
Muesli can be prepared a number of ways – hot, cold, or cold-steeped overnight! Review our preparation instructions for more information. ... Read More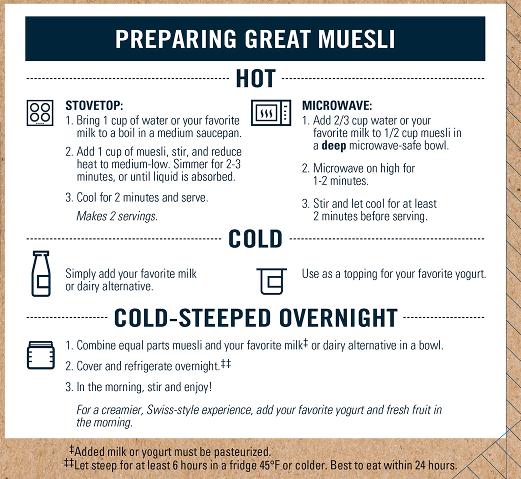 We proudly stand by the safety and quality of our Quaker products. Producing healthy, wholesome food is Quaker's number one priority, and we've been ... Read More
Yes, this product is Vegan based on Quaker's definition of vegan. The product does not contain ingredients such as poultry, fish, eggs, gelatin, milk, ... Read More
This simple cereal is comprised of whole grains, dried fruit, seeds, and nuts. All of these ingredients are blended together to create a delicious and nutritious breakfast option.
Overnight Oats are great with all kinds of milk, dairy (pasteurized) or non-dairy. Feel free to use your favorite! We do not recommend making Overnight Oats with water because it will result in an overly liquid texture.
No, Quaker Muesli is not Gluten Free.
Yes, you can enjoy this delicious cereal warm – preparation is similar to hot cereal.
Standard oatmeal is made up of only oats – these can be quick cook, old fashioned, or steel cut. Muesli by contrast uses a very thin rolled oats, so ... Read More
Not seeing what you're looking for?