How2Recycle is a standardized labeling system that clearly communicates recycling instructions to the public. It involves a coalition of forward ... Read More
How2Recycle is a simple on pack logo indicating in a clear and concise way, how to recycle each component of a package, with additional information on ... Read More
While many people enjoy warm Quaker Oats, cooked in a microwave or on the stove, Overnight oats are prepared with your favorite milk and refrigerated overnight for a cool and creamy—yet hearty—no-cook way to enjoy a delicious oats breakfast.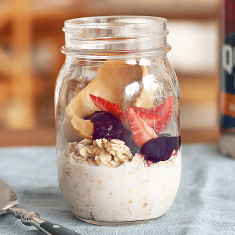 To enjoy Overnight Oats, just layer all of your ingredients in any food safe container with a lid and refrigerate overnight (up to 24 hrs). Stir and ... Read More
To see all our gluten free recipes visit this page.
Look for FORGED By Quaker at convenience stores nationwide starting in February 2019 .
FORGED By Quaker is a new line of delicious protein bars for fuel you can count on. Designed with both taste and nutrition in mind, the bars are made ... Read More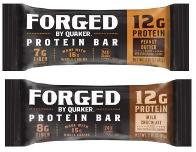 FORGED By Quaker will be available in Milk Chocolate and Peanut Butter flavors.
Yes, this product contains 15g-16g of whole grains, 8g coming from whole grain oats.
While Quaker Kids Organic isn't gluten free, we do offer gluten-free products including our Large Rice Cakes, Rice Crisps, Gluten-Free Quick 1-Minute, ... Read More
Not seeing what you're looking for?