This Mother's Day, we're standing by to provide a helping hand with brunch preparation through our Tropicana Sunrise Support Mother's Day Hotline.Open ... Read More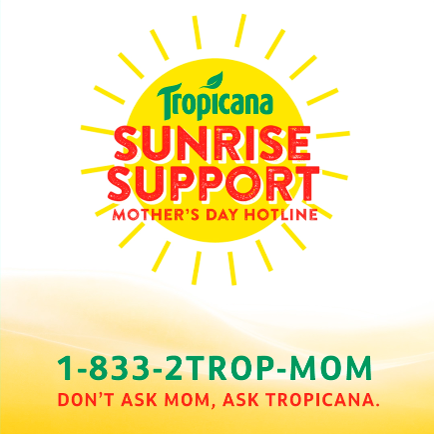 Tropicana Kids is a mix of organic fruit juice made from real fruit and filtered water, offering an excellent source of vitamin C without added ... Read More
There are 14 oranges in a 52 oz bottle of Tropicana Pure Premium Orange Juice.
We've compiled some great recipe options for Mother's Day this year. See below for some of our favorites!

Of course, we always love recipes that ... Read More
Yes, absolutely!
1. Check the freshness date on the package. Pancakes won't rise properly if the leaving is outdated.
2. Heat skillet over medium-low ... Read More
To enjoy Overnight Oats, just layer all your ingredients in any food safe container with a lid and refrigerate for 3-4 hours (up to 8 hours is best, but that will work as well). Stir and enjoy them cold!
Great question! One of our favorite scrambled eggs recipes from The Kitchy Kitchen uses a secret ingredient – orange juice! Try this recipe with Tropicana Pure Premium Orange Juice for an egg-tra special treat for mom today.
Since everyone's coffee makers are different and we're not coffee experts, we recommend you read the directions on the packaging or ask someone else ... Read More
We're hoping to help give moms everywhere a day off from breakfast duty by providing some inspiration in your Mother's Day breakfast preparation. We have so many great recipes and ideas; we just had to find a way to share them!
Donations & Sponsorship
Tropicana believes that it is our responsibility to support, improve and give back to the communities where our major ... Read More
Not seeing what you're looking for?